Festival Post Graphics Design Services
Custom festival graphics Designing Company/Agency in Ankleshwar, India
Festival Graphic Design Services in India
Promote your Brand on Every Special Occasion and Festival with Customized Posts
Festival Graphic Design Services agency offers a Custom Festival Post Graphics Design, National Days Graphics Design,
and International Days Graphics Design with unique Greeting Design for your Brand.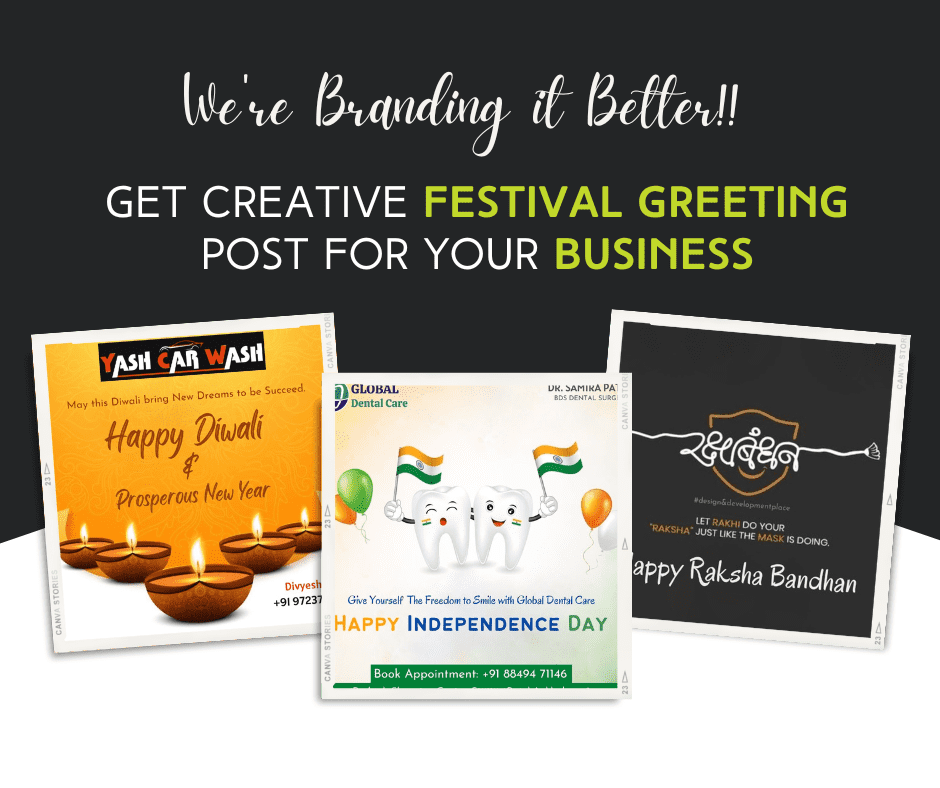 Custom Digital Festival Greeting/Poster Designing Services
As a creative design agency, we keep the quality and relevance of the information that customers have come to expect, although it is more focused on the aesthetic part. We design Creative posts for social media platforms. Our designs help your company increase visitor participation.
Choose the very successful Creative Festival Graphic Design Services, company/Agency in Ankleshwar, Gujarat, India for all types of festival-related posts and festival creatives services!
Our company is excellent, and we will create THE MOST EXCLUSIVE FESTIVAL POST DESIGN for you. You can contact us by contacting our support team, who will direct you to our poster and graphic designers, who are well-known for creating high-quality festival posters.
Social media is the most effective way to increase online engagement and communication with customers.
A well-crafted social media designing post that incorporates creative design and content can increase your online visibility on social media sites.
Our festival creatives company in India will help you in achieving your dreams with our expert team.
Why Festival Graphic Required?

Online Presence
Boost your online presence by greeting your clients, friends and relatives with our creative and unique designs and videos.

Engagement
The more active and creative you are online, the more likes and comments you'll receive from your followers.

Online greetings are a component of digital marketing that can help you generate more client leads.

Branding
Every festival and day celebrated in India is an opportunity to share your love for people, turning your business into a brand.

Trust
Your social media profiles benefit from lifetime connections made through your online relationships with people.

True Value
Each of our package is filled with high-quality greeting designs and videos that are offered at an unbeatable price.
Some Work Example of Festival Designs
Festival Greeting Graphics Package
Festival Post Graphics Package
₹ 9,000
₹ 7,000
Offer Expiring Soon
35 Festival Post Graphics Design
Custom Design with Brand Logo
Required Logo, Product/Services Image provided by client