Social Media Marketing India
Great Brands are Build Through Social Media
Have You Discovered Social Media Marketing?
Social Media Marketing Company in Ankleshwar, India
Grow your business

by acquiring Climax Core social media marketing Company in Ankleshwar, Bharuch, India

We create Digital Design and manage social media strategies for businesses to reach new leads and form relationships with existing customers
Social Media is the city that never sleeps.
Best Social Media Marketing Services 
Social media is an excellent way to boost your online visibility by sharing content and building relationships with new and existing customers.
With over 4.5 billion users worldwide, social media is an important part of modern culture, and it presents an exciting opportunity for businesses to grow by enhancing their brands, services, and products.
climax core is a creative Social Media Marketing Services Company in Ankleshwar, bharuch, India. dedicated to searching for innovative solutions for our clients through #Strategy #Creativity & #SocialMedia.
Question is when and where are your customers online?
social media marketing company team of social media experts creates strategies aligning with your core brand and goals. We will create digital marketing campaigns to meet your precise business objectives as well as manage your accounts on a daily basis.
Here are some of the Reasons
Why Climax Core's
Services are Extraordinary

Team of Experienced Professionals

Data-driven experiments to help brands grow
Social Media Marketing Services
Amplify Your Strategy with Our Social Media Services.
Facebook
With our clever strategies, you can optimise your Facebook marketing. Boost your engagement, clicks, leads, and sales.
Instagram
Engage with a wide range of users on the most popular app through our warm, creative and humane content.
Twitter
Ace your brand's engagement with the widespread and diverse audience on Twitter, where trends begin.
Youtube
Press play on new ways to engage consumers with an agile YouTube campaign. Boost your online video traffic.
LinkedIn
Showcase a positive image of your brand. Build a brilliant professional network & maximize your visibility.
Organic

Social Media Marketing
Organic Social Media services include social media strategy creation, page setups, professional branding and strategic content planning, feed posting strategy, copywriting, editing, and post scheduling, and community management.
According to recent surveys, most individuals now check out a brand's Social Media presence as well as their website before participating in a discussion or commercial activity, thus a well-maintained page may also be extremely valuable to converting new clients.
Paid

Social Media Advertising
Facebook, Instagram, Linkedin, Youtube, Twitter & Pinterest
These are campaigns meant to promote your brand in front of your target market by sponsoring specific types of content.
We currently use the most advanced strategies and tools on the market to research, compile and deploy high-performing campaigns for E-commerce, B2B and B2C businesses, designed to directly monetise your marketing investment by generating leads and sales.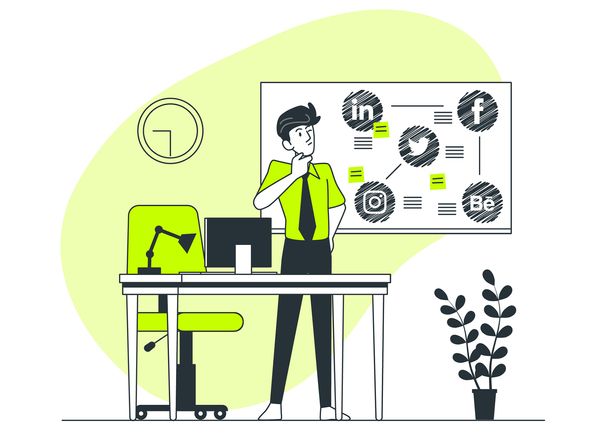 We don't play favourites.

We work with channels that best suit your business…
We are a performance digital marketing agency which completely channel-agnostic.
There are no hidden agendas, we simply reverse engineer your client's attention and help create a winning strategy around the digital channels that are going to best serve your goals.
Social Media Marketing Packages
We have some pre-planned SMM packages that work around overall strategies for your business to gain the presence it deserves.
₹ 7,000
₹ 6,000
Offer Expiring Soon
Any 2 Social Media Platforms Manage
• Facebook
• Instagram
• Twitter
• Linkedin
• Google Local Business
2 Social Media Posts Weekly
( Custom Creatives / Month )
Social Media Profile Optimization
Organic Reach up to 3000 Monthly
1 Cover Image Creative And Upload
Extras Addon: Boosted Post Ad Spend
it will take 3 to 6 Months for Growth
Any 3 Social Media Platforms Manage
• Facebook
• Instagram
• Twitter
• Linkedin
• Google Local Business
3 Social Media Posts Weekly
( Custom Creatives / Month )
Social Media Profile Optimization
Free FB Adverts Credits for Page Likes & Promoted Posts / Month – Rs.500
Organic Reach up to 6000 Monthly
1 Cover Image Creative And Upload
it will take 3 to 6 Months for Growth
5 Social Media Platforms Manage
• Facebook
• Instagram
• Twitter
• Linkedin
• Google Local Business
4 Social Media Posts Weekly
( Custom Creatives / Month )
Social Media Profile Optimization
Free FB Adverts Credits for Page Likes & Promoted Posts / Month – Rs.1000
Organic Reach up to 10,000 Monthly
2 Cover Image Creative And Upload
it will take 3 to 6 Months for Growth